Okay, so, yesterday I managed to top-spot the front page of Reddit (see here for the actual post).
Basically, VGG has reached almost 24,000 game entries now. User-contributed, they show the games everyone on the site are interested in. I thought it would be interesting to trawl the database and find out if theme and genre interests have changed over the 30-40 years of videogaming, and see if I could that as well as the rise and fall of gaming platforms.
Posting the info over 3 nights, you can find the original threads here:
Discussing the charts at work the other day, Matt suggested other people might find the info interesting too, not just those on the site. Turns out he was right.
Here's the image I posted to Reddit, in case you're interested too: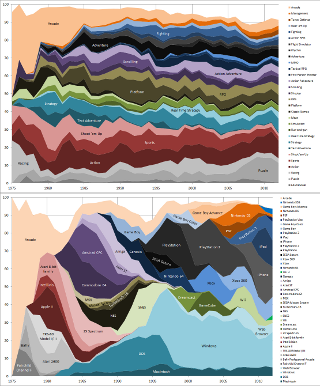 (The whitespace that fills the charts up to 100% are all the other genres and platforms not individually listed)